Faculty & Staff
Information for Faculty and Staff
All COF faculty and staff members are invited to encourage their students to consider studying abroad as a means of broadening their cultural awareness and preparing to become well-rounded global citizens. Students are much more likely to study abroad if they feel that their professors and academic advisors are supportive.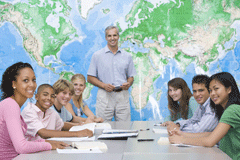 Proposing a Faculty-Led Program
Consider taking your students to a world beyond the classroom. For information on developing a faculty led program, click on the 'Program Proposal' link below.
If you would like to find out more about the COF study abroad office and programs, please stop by, make an appointment, or email us.